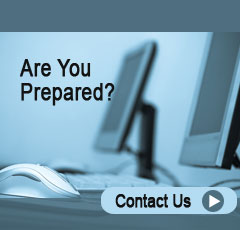 BACKUP AND DISASTER RECOVERY
Star Computers has developed standards that allow your company to minimize the effects of both technology and natural disasters on your business. Why back up your data? Think about what your data will cost you such as customers, orders, image, budget, morale and time. Also, data is recognized as a company's first or second most valuable asset. Equally important with backing up your data and communications is the capability of recovering lost data in a timely manner to keep your business running smoothly.
Star Computers can plan and implement onsite and offsite data backup solutions as well as redundant server solutions to ensure that your critical business information is easily accessible in the event that an adverse event occurs. In addition, if an adverse event does occur Star Computers can quickly and easily recover your data and have your operations up and running with minimal downtime.
Redundant Servers
Onsite Tape Backup Solutions
Offsite, Remote Access Backup
Disaster Recovery Services
Create a worry-free staff with Star Computer's Backup and Disaster Recovery Services. Our systems automatically schedule a daily backup of all your company's data so there's no need for a member of your staff to rotate backup tapes everyday and take them to a secure location. Star Computers will assist a client with the recovery of a single file or a full system recovery. Clients are able to recover from any backup version, recover an individual file, perform a point-in-time recovery and perform a full system recovery.